Growing Backyard Vegetables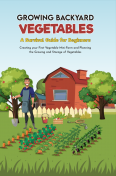 Growing Backyard Vegetables
Do you know that any available space in your backyard, whether small or large, can be transformed into a lush garden filled with beautiful herbs and flowers, and fresh produce? Yes, you can make that happen whether you live in the city or the country. All you have to do is grab a copy of a book that will guide you every step in your quest to access locally sourced and organic produce.
Urban gardening has recently earned a resurgence in popularity. The good news is that it is easy to dabble in the world of urban and backyard gardening with the right source of information to guide you. This book will teach you more about gardening and why it has become a trend. In addition, it will make you realize how good gardening is for your health, the soil, and the wildlife surrounding your backyard.
Are you looking for a stress reliever or an activity to motivate you to nurture something and set objective and realistic goals? Then backyard gardening is the best activity for you. It allows you to grow your produce, contributing to sustainable living and significantly reducing your environmental impact.
And you can reach that goal guided with expert advice as you fashion your environment and turn it into a lush and abundant green landscape. Here is just a glimpse of what the book can do for you to make gardening an enjoyable, refreshing, and relaxing hobby, even for beginners and those with less experience in the field:

What makes gardening a gratifying hobby?
Common myths about gardening and the truths behind them
The essential elements/factors in garden planning (location, farming objectives, layout and design, water, sunlight, and among many others)
Essential things to do and steps in preparing your garden bed
How to choose the right plants using key deciding factors (ex., climate and zone, type of soil, available space, size and growth pattern, etc.)?
What to plant – seeds vs. seedlings – and how to choose high-quality seeds or seedlings?
Planting methods that work based on your location
Plant care and maintenance and after-planting requirements
Safeguarding your plants from pests and diseases
Harvesting and preserving your produce
And a lot more...
As you can see, this book dabbled into every vital aspect associated with backyard gardening. As a result, it is a very empowering and enlightening source of information that will assist you as you delve deeper into gardening.
With the easy-to-understand concepts and straightforward explanations here, you can enjoy gardening and eliminate the guesswork. Even if you are a beginner, the words used here will be easy for you to grasp, making the seemingly daunting task of gardening becomes less complicated and easier for you to do.
You will be more charged with information as soon as you finish reading this book. What you learn here will inspire and motivate you to begin your gardening journey sooner.
Book Details
Genre:
Educational
Environment
For Reluctant Readers