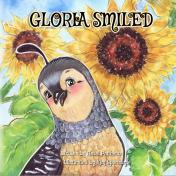 LitPick Review

It is a special day, and Gloria is excited to celebrate with her friends. When she finds the covey huddling and whispering without her, Gloria feels left out. Have they forgotten what day it is? Gloria decides it's up to her to save the day and plan a celebration for them, instead. As she ventures through the bosque in search of fun ideas for the party, she runs into a big problem: there's a sorpresa on the loose! Putting her courage to the test, and for the happiness of her friends, Gloria faces this sorpresa! What happens next will determine if Gloria's smile is dimmed once again or reignited at last.
Opinion:
Beautifully illustrated and charmingly written, Gloria Smiled tells a story of Gloria, a social quail with a smile as bright as the sun. Hazel Pacheco incorporates unique vocabulary to add to the authenticity of the setting and behavior of the main characters. Gloria, who is in search of both berries and seeds in the story, provides readers with clues that some species of quails are herbivores. The use of Spanish words, coupled with Kim Sponaugle's illustrations of Gloria's habitat, help the reader infer where the covey lives. The text, which dances across the page, reinforces both the illustrations and the emotions of the characters. Ms. Pacheco uses a repetitive story structure by showing and telling Gloria's changing smile after each event. Part of a series, Gloria Smiled incorporates characters from previous and future books. This is a great read aloud for primary grades and will grab the attention of even the youngest readers with its bold and colorful illustrations. With an overarching theme of friendship, the author depicts what it means to bring joy to others, especially those you care about.
Explain your content rating:
Gloria Smiled is appropriate for any child who enjoys beautiful artwork and a light hearted story. Nothing offensive is present in this book.
KEYWORDS
CHARACTERISTICS AND EMOTIONS:
ACTIVITIES, HOBBIES, PLACES, AND EVENTS: