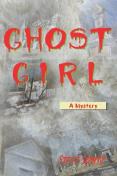 LitPick Review

WATCH THE LITPICK BOOK BRIEF VIDEO!

This book starts out in a forest with a boy named Nate. As he is wandering around, a girl pops up and scares him. She explains that she is a ghost and needs help finding her body - since she lost her life in a flood many years ago. She cannot live in the cemetery unless they have her body. Nate reluctantly agrees to help her. The search is not an easy one. It involves a metal detector, more ghosts, research, and the library. Do they find her body? Does she get to live in the cemetery? Read the book to join them on this adventure!
Opinion:
Ghost Girl: A Mystery is an amazingly written book. It was a quick read for me, and I couldn't put it down. This book involves friendship, family, mystery, and adventure. Ghost Girl: A Mystery was full of detail. I could clearly picture what was happening, and I loved finding out more about Mattie's family. I'd definitely recommend it to everyone. There is no bad language in this book.
Explain your content rating:
Everything in this book is appropriate!
KEYWORDS
CHARACTERISTICS AND EMOTIONS:
ACTIVITIES, HOBBIES, PLACES, AND EVENTS: