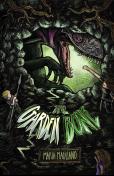 LitPick Review

The Garden Bone is a book about a young teenager named Wenceslao, or Wences. Ever since Wences' parents died in a helicopter crash, Wences renounced being "The Dinosaur Kid" he once was. He gave all of his dinosaur toys to his little brother hoping to forget his past. However, when he goes into his garden, he finds a mysterious object. Further inspection reveals to him that it is a bone, a dinosaur tooth in fact! But the next time he goes to the garden, he doesn't find another bone, he finds a living dinosaur! How will this change his life? What will the dinosaur do? How is it here? Read to find out!
Opinion:
The Garden Bone is a great fantasy book about dinosaurs. There were several things I liked about the book. The first is the originality of the story. The story doesn't feel like it is a spin-off of a different book, and it is very unique. I also liked the plot. I felt the plot was one of the best parts of the story. The plot contained many surprises and twists which made for an interesting story.
However there is one thing I didn't like. While it had a great plot, I felt that the pace was a bit slower than it should have been.
All in all, The Garden Bone is a great fiction book about dinosaurs. I rate this book five out of five stars and would definitely recommend it for anyone 11 to 13 years old. Have fun reading this book!
Explain your content rating:
Just a book about dinosaurs. Nothing bad.
KEYWORDS
ACTIVITIES, HOBBIES, PLACES, AND EVENTS: