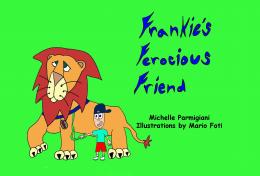 LitPick Review

Mike's grandson Frankie loves the zoo. When Mike and Frankie go to the zoo one day, Mike finds a little lion cub. Mike decides to bring the little cub home, and Frankie automatically loves him. Mike let Frankie have the little cub, and Frankie was ecstatic. Frankie and Fang, the full-grown lion, see a flier for a dog show, and Frankie thinks that he should enter Fang. Frankie and his lion decide to enter the show, but they are nervous that they won't be able to participate since Fang is a lion. Fang does a flip for the show and it is amazing. Will Fang get 1st place and win the dog show?
Opinion:
Frankie's Ferocious Friend was a great picture book that younger readers would love. It has many exciting elements that will make readers interested to read more of the story. Some elements that are fun to read about are the fact that Frankie has a pet lion and the suspense surrounding Fang's success at the dog show. Some themes were also a little unrealistic, for example, Mike simply takes the cub from a zoo, and he becomes a pet lion, which can be dangerous. Even though some themes were unrealistic, I think that younger readers would have a lot of fun reading this. Overall, I would recommend this picture book to ages 3-5.
Explain your content rating:
There is nothing offensive in this book.
KEYWORDS