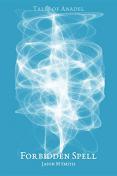 LitPick Review

Thirteen-year-old Milos is fascinated by magic and loves to read about it from the illegal spellbooks he keeps under his bed. He dreams about how his life could be different if his father, Lord Andrik, hadn't banned magic in the city of Anadel. Then, Lady Keren from the city of Breen comes to visit the palace, and Milos meets her mischievous son Caleb. After watching Caleb perform a magic spell from one of Milos's books, Milos is curious to try the spell himself. But in order to do that, he needs one special ingredient, and to retrieve it, Milos will have to sneak out of the palace, find Lady Keren's secret stash, and get back to the palace undetected. But just as Milos believes he can finally perform real magic, he inadvertently does something that puts the whole palace, and everyone in it, at great risk. How can he keep his magic a secret? Will he decide the right thing to do before it's too late?
Opinion:
Overall, this was an intriguing fantasy story, and I liked how some chapters ended on cliffhangers, making you wonder what will happen next. One thing I didn't like was that the story was inconsistent. It seemed too slow in some parts and very fast in others. Milos is an interesting character, but I don't think he thought through his plan very well, putting everyone in the palace in danger as a result. I also wish Caleb was in the story a bit more. The ending of the story also felt a little abrupt. But I do think the author did a great job with introducing and creating the setting of the story. I think kids ages 8-12 would like this book.
Explain your content rating:
There was nothing offensive in the book.
KEYWORDS
ACTIVITIES, HOBBIES, PLACES, AND EVENTS: