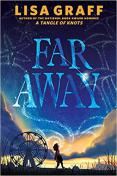 LitPick Review

CJ Ames lives with her Aunt Nic who works as a psychic medium. The two of them are always traveling from place to place so that Aunt Nic can communicate messages from the dead to members of her audience. Aunt Nic also relays messages from CJ's mother, who died after giving birth to CJ.
But on CJ's 12th birthday, Aunt Nic announces that she is sending CJ to boarding school after signing a deal to get her own TV show. She also says that her mother's spirit has gone "far away." This means that they won't be able to speak anymore without a tether, an object on Earth that can allow a spirit to return from far away to talk to Aunt Nic. Recruiting 16-year-old Jax, the new kid on Aunt Nic's crew, CJ sets off to find a tether to her mother and slowly unravels a chain of lies about her past. This causes her to question her family, her beliefs, and what she wants for her future.
Opinion:
This book is full of twists and turns that I don't want to give away, but that's what's great about it. Sometimes it's funny, sad, and shocking, all at once. All of the main characters make both good and bad decisions, including CJ. Each truth that is uncovered is a huge deal, and they are all revealed in a short amount of time. She barely has time to process one piece of information before another is revealed. This causes her to retaliate in anger, and she takes it out on the person she loves most. You, as the reader, are then left wondering whose side you are on.
Much of the story takes place on the road as CJ and Jax end up on a scavenger hunt looking for answers as each new truth is revealed. During their road trip, they visit quirky places, meet interesting people, eat good food, and work together to follow the clues, find answers, and return in one piece. CJ is a very outgoing girl who uses Spirit to tell her what choices to make. Meanwhile, Jax is a bundle of nerves who has trouble talking to strangers and doesn't share his beliefs, but he is comfortable around CJ and allows her to take him on her adventure, even if it could cost him his job.
I was expecting a more supernatural story in Far Away, but in the end, I ended up liking it for the story that it really is. It has a good message, and it really shows how growing up can sometimes mean facing the truth and turning your whole world upside down in order to accept it. I recommend this book to anyone who likes mysteries, twists, and stories about strong-willed girls.
Explain your content rating:
KEYWORDS
CHARACTERISTICS AND EMOTIONS:
ACTIVITIES, HOBBIES, PLACES, AND EVENTS: