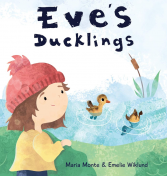 LitPick Review

Eve's Ducklings follows a young girl named Eve and her grandpa visiting the lake for the first time. They see ducklings at the lake, and Eve attempts to be friends with them by trying to hug, pat, and touch them. Her attempts fail, but Eve tries a different method, which is to feed them. A couple of days later, Eve and Grandpa go back to the lake and don't see any ducklings. Eve sets out some sunflower seeds for them, and the ducklings eventually come to greet their new friend and eat the delicious seeds. She was successful in making the ducklings her friends!
Opinion:
Eve's Ducklings is a picture book that can teach younger readers an important lesson, which is to treat animals kindly. This book is fun and entertaining while there is also an important message that many readers can learn from. Eve goes through a few challenges in the picture book while she is trying to be friends with the ducklings. This shows a potential reader that not everything is easy in life. However, the story was quite short, and there could've been more structure by having more details given. The illustrations that were created were perfect for the story because of the simplicity, but they also captured what the story was trying to display. All ages could read this picture book and still thoroughly enjoy it, but it is targeted to small children.
Explain your content rating:
There is nothing offensive in this picture book.
KEYWORDS
CHARACTERISTICS AND EMOTIONS: