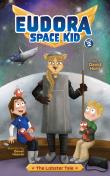 LitPick Review

Eudora and Arnold are best friends, and they live on Athena, a spaceship in Astrofleet. They always cause mischief together, though Eudora usually comes up with the plans. First, they try to play Eudora's favorite song on the PA system. Eudora gets in trouble, but her mom, who's in charge of the spaceship's version of the dungeon, lets her go. After leaving the dungeon and snooping around for a while, she finds that out her own father is planning to give some of their lobsters to be eaten in the New Years Grand Buffet. Eudora needs to save the lobsters, but will she be able to save them in time?
Opinion:
I really liked reading this book. The first thing that I liked was that there was a big variety of the characters. The main character, Eudora, is a human while the other characters are from various planets or are animals. Another thing I liked about this book is the illustrations. I found that they matched the descriptions of the characters well, which helped me visualize them. I also think that the illustrations really brought the settings in the story to life. The one thing I did not like about this book was that it was hard to keep up as there were many things happening in each scene. Overall, I really recommend this book to elementary schoolers looking for a funny book!
Explain your content rating:
This book is good for children.
KEYWORDS
CHARACTERISTICS AND EMOTIONS: