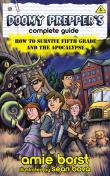 LitPick Review

It's 1986 in Catskills, New York, and Doomy Prepper is a fifth-grade boy. Doomy has been seeing abnormal lights in the sky, and people in the community are disappearing. Doomy believes the strange lights are extraterrestrial and somehow connected to the disappearances. Doomy tells his best friend, Peter Peterson, about his thoughts, and Peter thinks Doomy is crazy.
A few other kids hear about Doomy's suspicions, and Doomy convinces the group that the lights and disappearances are linked. When their teacher, Mrs. Nebula, disappears, a peculiar substitute, Ms. Martian, fills her spot and takes the class on an unplanned field trip. The trip leads them to a mysterious ship and its creature inhabitants. Will this determine where all the missing people are? Throughout the book, Doomy and his friends go on many adventures in an attempt to save the missing people and their town. Will they find them?
Opinion:
Doomy Prepper's Complete Guide: How to Survive Fifth Grade and the Apocalypse is a very adventurous book. I was eager to read more of the story to figure out the secrets the story holds. Doomy is very likable as a character, because he is brave and helpful to his friends. I typically like more mature themes, but 9- to 11-year-old readers will find this to be a great chapter book to read because it is short, easy to understand, and presents a fun adventure that keeps the reader guessing.
The illustrations give the reader a good visual of what the scene looks like, which helps to imagine the events, characters, and settings. I'm excited that the author is coming out with more books in the series, because I definitely want to read more about Doomy's adventures. Amie Borst is an excellent author, and I look forward to following her work.
| | |
| --- | --- |
| | Support a small bookstore - buy this book from bookshop.org. |
Explain your content rating:
There is nothing offensive or inappropriate in this book.
KEYWORDS
CHARACTERISTICS AND EMOTIONS:
ACTIVITIES, HOBBIES, PLACES, AND EVENTS: