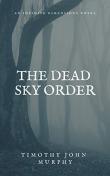 Age Range -
Mature Young Adult
LitPick Review

The Dead Sky Order is the telling of a turning point on a faraway planet. Beneath the revered Frozen Sky, an unstable kingdom terrorized by wolves and raiders alike turns to a handful of sworn warriors, the Solchampions, to protect them from oncoming threats. A river divides the sick from the well in a land plagued with an unstoppably contagious disease. Told from the perspective of several of the land's last defenders, The Dead Sky Order chronicles the last fight of a lowly soldier, a warrior seeking his own end, a mother set on protecting her daughter, and young souls trapped in their own dangerous destiny. The worshipped Ka-Guardians have banded together with several other violent tribes in the land to destroy all those yet untouched by the sickness. The journeys of each individual character collide in the end to form one last front against the hordes as the ancient frozen sky begins to fall.
Opinion:
This book is best for sixteen-year-olds and young adults because it includes considerable violence and mature language. Murphy has woven a fantasy tale rich with imagery that paints both beautiful and brutal pictures. His book demonstrates a mastery of suspense, with each chapter leaving a character wrestling with a revelation or faced by a formidable force. There is just enough mystery to capture the attention of a reader. There is plenty of material for action-lovers, but fantasy readers who prefer violence to be left up to the imagination may not enjoy the incredibly detailed accounts of often gruesome deaths. While diving into the well-crafted imagery of the world below the Frozen Sky, the reader may initially be rather confused by a lack of cohesive explanation of the new world. Since the characters for the most part understand their place in the world, they are slow to explain it to the reader through their thoughts and actions, perhaps leading to decisions with unclarified purposes. However, young adults who enjoy mystery, fantasy, and suspense will be intrigued and excited by the twists and turns of The Dead Sky Order, with the author's understanding of his setting evident by the depth of the world he has created.
Explain your content rating:
There is a lot of mature language and considerable violence. There are a couple allusions to prostitution.
KEYWORDS
CHARACTERISTICS AND EMOTIONS:
ACTIVITIES, HOBBIES, PLACES, AND EVENTS: