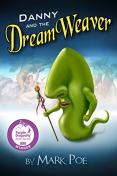 LitPick Review

WATCH THE LITPICK BOOK BRIEF VIDEO ON YOUTUBE!

Danny Venuti the Daydreamer is ready to go home and take a nap after his most recent scolding, but this nap is different than any other. Danny is visited by Nostrildamus, a legendary seer, a creature with a HUGE nose and no eyes. Nostrildamus can see things that others can't, and he can travel through time. During his travels, he is called upon to find and condemn the mysterious criminal who defaced a famous work of art. With humor, mixed up artists like Michelanjello and Hippopotamus Bosch, and a mystery, Danny and the DreamWeaver teaches the lessons a person can learn by simply changing their perspective.
Opinion:
I enjoyed Danny and the DreamWeaver a lot. It is an interesting, easy-to-read story. I liked Mark Poe's incorporation of Rich DiSilvio's imaginative depictions of famous artist sand inventors. Though the story was entertaining, it taught the lesson that when one looks at one's life differently there is a lot to learn. The characters were relatable and charming. I would definitely recommend it to a friend.
Explain your content rating:
There is not any offensive content in Danny and the Dreamweaver.
KEYWORDS
CHARACTERISTICS AND EMOTIONS:
ACTIVITIES, HOBBIES, PLACES, AND EVENTS: