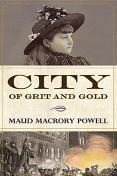 Genre -
Historical Fiction
LitPick Review

Age at time of review - 13
Reviewer's Location -
Spring Hill,
Tennessee,
United States
View moseso's profile
City of Grit and Gold is a wonderful historical fiction book about twelve-year-old Addie. The year is 1886, and the streets of Chicago are becoming more and more dangerous. Workers who are determined to receive better wages and work hours are marching through the streets, proclaiming their message everywhere they go. While wanting to remain loyal to her gruff Papa but still wishing to support her Uncle Chaim, who has become involved with the striking workers, Addie struggles to find her place in her family. Surrounding the events of the Haymarket Affair, this story tells of one Jewish family's experience in the late 1800s.
Opinion:
This tale was wonderfully descriptive, and it effortlessly portrays the hardships of an immigrant family in Chicago during the 1800s. Focusing mainly on Addie, the youngest in her family, the story walks the reader through the events of the striking workers and how it tore apart families. While not overly fast paced, the events of the story still keep one's attention. The description of a family and their unique love for one another is beautiful. Despite being in an entirely different time period, the struggles and hardships of Addie's family still apply today. In the end, the unending love of a family is truly evident despite all of the ugly things going on around them. City of Grit and Gold invites the reader to explore the events of the Haymarket Affair and the journey of a young girl trying to find her place in her family.
KEYWORDS
CHARACTERISTICS AND EMOTIONS:
ACTIVITIES, HOBBIES, PLACES, AND EVENTS: