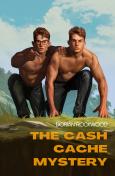 LitPick Review

The Cash Cache Mystery, by Dorian Rockwood, tells the adventure of identical twins as they try to uncover the hidden location of some embezzled funds. Dan and Paul Case, the identical twins, don't feel identical enough, and their differences often get them into trouble. Their troubles in the Cache Mystery all begin when they decide to help a hitchhiker by giving him a ride. Shortly after, they are visited by a detective named Archer who asks some questions and explains in detail what he knows about the hitchhiker known as Eddie Ridgway. Eddie is the former bookkeeper for a notorious gang that has embezzled a massive sum of money. There ends up being a reward for whoever leads the detective to the hidden funds. The twins see that the reward could go a long way in helping their struggling mother, so the duo become determined to find the hidden money, despite all the dangers that inevitably await them as they dive into this exciting adventure.
Opinion:
I found this book to be intriguing, even though the first few pages of the book were quite confusing. As I delved deeper, I began to grasp what the story was all about. Each page plunged me into the story, and I became keen on finding out the outcome. The plot of the story was creative, and the characters were quite funny and quite scary. The book even had a touch of romance. What I loved most about the book was the determined emotions the twins possessed that made them seek out the embezzled money. They had hoped the reward would go a long way in helping their mother to take care of herself, and I felt a bit sad when the twins found out that their father had been part of the gang when he was younger. You will have to read the book to find out how this affects their mother. Overall, I loved the book and viewed it as an engaging mystery.
Explain your content rating:
I would gladly rate this book 5 out of 5 stars as it proved to be an interesting and I would recommend this book to teens and to fans of mystery books with a pinch of suspense and romance.
KEYWORDS
CHARACTERISTICS AND EMOTIONS:
ACTIVITIES, HOBBIES, PLACES, AND EVENTS: