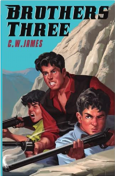 LitPick Review

Allen, Paul, and Chet Winthrup are orphaned siblings . They would inherit the ranch their father left them to take care of after he died. However, the teenagers were also left under the guardianship of their currently missing Uncle Barnaby until they became adults. Greed possessed their uncle who went off leaving the brothers to fend for themselves. He was on a mission to find precious metal and left for San Francisco, or so the brothers were informed.
One day, their valuable possessions get stolen by thieves, and this leads them to the daring adventure they had never imagined to become part of. Did the thieves who stole their possessions have an ulterior motive, or were they part of something big? The three brothers find themselves victims of circumstance, and their attempts to fight tooth and nail for survival with the dangerous enemy, captain Grady and his gang, are told .
Opinion:
The book is nicely woven around three courageous brothers who are related by blood, how they stay through thick and thin, and how unflinching they are when trouble gets them. Fast paced, the book is well-written on the themes of the importance of family, siblinghood, friendship, love, hope, and courage. The search for Uncle Barnaby leads them on the path to find out the truth and ultimately save the ranch their father left them by chasing away the enemy. I loved the book's many twists and turns and kept my fingers crossed when the brothers were dealing with the horse thieves and captain Grady. The book is a good fit for teen readers and especially for those who love tales of adventure.
Explain your content rating:
For me, the adventure of teenagers seemed risky, it might inspire negatively to children, so I am giving this rating.
KEYWORDS
CHARACTERISTICS AND EMOTIONS:
ACTIVITIES, HOBBIES, PLACES, AND EVENTS: