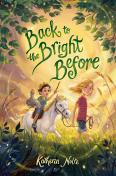 LitPick Review

Back to the Bright Before by Katherine Nolte is a smooth and poignant children's adventure story that features the journey of Perpetua or Pet and her little brother Simon. Although Pet's family has never been rich, things go well until one day an accident casts a dark shadow over their lives. Pet's dad, the breadwinner of the family, breaks his arm, and Pet holds herself responsible for the misfortune. To make things worse, her little brother fails to produce any other word except 'cheese,' and in spite of her mother's inhumanely long hours at work, they cannot afford the much-needed surgery for her dad. With the guilt of being responsible for the situation tearing her apart, Pet pledges to find the hidden treasure in her local abbey. Dangers lurk in every nook and corner of the journey, but as this seems to be the only way to put an end to her family's struggles, Pet is determined to get her hands on it.
Opinion:
Among all the beautiful aspects of the book, the wonderful bond that holds the protagonist's family together undoubtedly stands out. The relationship between the members is nothing unnatural; like any other family in the world, they experience ups and downs in their relationship. However, the storms are transient and the fact that they are bound together with the mighty string of love is proven to the reader time and again. This bond allows them to stay strong in the face of utter misfortune and provides Pet with the courage to find a way out of the misery.
One of the most significant messages that the book delivers is that through love, faith, determination, and courage, it is possible to stand face-to-face with any challenge. Besides, the story also preaches that although money is important, wealth itself does not always guarantee happiness, and conversely, happiness is not always dependent on how much wealth one possesses.
Perpetua, the protagonist, is an exceptionally intriguing character. She is eleven but clearly mature beyond her years. Despite being young, she manages to understand the mental state of her parents and tries to look for a way to relieve them of their pain. Unlike her parents, she refuses to lose hope and puts herself at risk for the sake of her family. Besides, being a child herself does not stop her from voluntarily accepting the responsibility of protecting her younger sibling. Her maturity as well as her love for her mother has been portrayed wonderfully by the author, especially in lines where Pet thinks about how she would have tucked her mother in bed if she were her child instead of her parent.
This fast-paced and easy-to-follow story is no doubt a good pick for children aged 8-10.
KEYWORDS