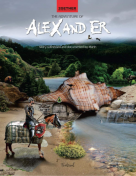 LitPick Review

The Adventure of Alex and Er is an imaginative and creative story of adventure and magic. A knight and his unicorn go on a quest to find a stolen broom from a childhood snowman friend. The knight leaves everything behind including his land and castle to pursue this quest. During the knight's journey, he and his mare come across three lakes. The knight learns that each lake once was a kingdom that is under a spell. There is rhyme scheme for kids to enjoy and beautiful illustrations. Both Alex and Er overcome obstacles, encounter magical creatures, and help people during their adventure. This story is a fun read for kids to enjoy.
Opinion:
Alex and Er is a decent adventure story. The rhyme scheme makes the story more interesting, but there were quite a bit of typos. This book is worth reading for the beautiful illustrations. It is an adventure for kids to get lost in. For example, along with regular illustrations of the characters, the author provided unique illustrations to go with his text. While reading the book, the text is written along a parchment that resembles a medieval paper a writer may have written with a quill. Extremely beautiful and clever.
Explain your content rating:
Nothing offensive is in this book.
KEYWORDS
CHARACTERISTICS AND EMOTIONS:
ACTIVITIES, HOBBIES, PLACES, AND EVENTS: