River of Wrath (St. Benedict, #2)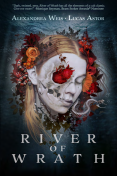 River of Wrath (St. Benedict, #2)
More secrets are about to be uncovered, beginning with the arrival of a handsome stranger, and the discovery of bones long buried beneath the river …

Leslie Moore is struggling to get through her last semester at St. Benedict High. Even her relationship with her boyfriend Derek is falling apart. But after receding floodwaters from the Bogue Falaya River expose the bones of a woman, Leslie becomes obsessed with tracking down the killer.

Sightings of an apparition haunting The Abbey send Leslie and her friends back to the scene of the horrors from last Halloween, but no one is prepared for what they find.

After a stranger—the handsome Luke Cross—arrives in town, another girl goes missing, and the sheriff suspects the newcomer is hiding something. Leslie believes the Devereaux family is connected to everything going wrong in St. Benedict. And she means to uncover the truth, no matter the cost.

Not all secrets can be kept silent. Some eventually find their way home.