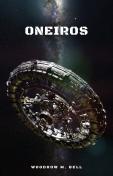 Oneiros
Would you be willing to lose your family to save the world?

In the near future, the Earth is on the verge of destruction. Major Asher Gray is at the end of his career and the government asks him to undertake one final secret mission. For thirty years, asteroids have pummeled the Earth and the Military believes something is intentionally attacking the planet. They want Asher to find the source of the asteroids before the planet is destroyed.

The catch is that Asher will have to spend years away from his family at the edge of the Solar System on the Oort Cloud Space Station. Further, Asher thinks the government isn't telling him the truth about his mission. Finally, before he departs his father hints at a dark family secret that could upend everything Asher knows about reality.

The stakes are high: Asher must save the Earth, keep his family together, and find out what the government is really after. The only way to accomplish the mission is to rush headlong into deep space and confront whatever is threatening everything he holds dear.

Following in the footsteps of Joe Haldeman's "Forever War", and Robert Heinlein's "Starship Troopers", Oneiros tells the story of one man's struggle to balance his family, career, and mission to save the Earth. Ultimately, it looks at how far one man is willing to go to get back everything he has lost.