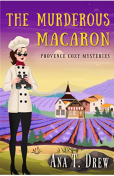 Julie has her freedom,
a dream job as a pastry chef,
and a corpse growing cold on her floor...

Welcome to Beldoc, a small town in the heart of Provence, imbued with lavender and fresh baked bread! You can idle around, or you can puzzle out a murder mystery.

When a man dies on her watch in her pâtisserie, newly divorced chef Julie Cavallo is dismayed.
It isn't that she's a suspect.
The local gendarmerie captain signs off the death as a natural event. A heart attack.
But for a reason she won't discuss, Julie suspects Maurice Sauve was poisoned.
What's a girl to do?
She'll ignore the risk and seek justice for Maurice on her own!

Well, not quite on her own. Julie's eccentric grandmother, her snarky sister and her geeky sous chef are keen to help.
The team's amateurism is a challenge.
But there's also the pesky matter of no evidence, no clues, and soon, no body.
The murder—if it was a murder—was planned and executed flawlessly.

Can a small-town baker solve the perfect crime?

"The Murderous Macaron" is a twisty whodunnit mystery perfect for fans of Janet Evanovich, Alexander McCall Smith, Jana DeLeon and Lilian Jackson Braun.
Please support LitPick and purchase this book here.

Thank you!