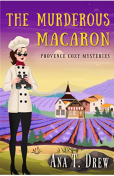 LitPick Review

In a small town called Beldoc, Provence, we follow a 30-year-old chef named Julie Cavallo who has a patisserie that is gluten-free. Julie is teaching a man named Maurice the ways of baking when he suddenly has a heart attack and dies. His death is filed by the gendarmerie as a natural death, but Julie thinks otherwise. Julie suspects that he was poisoned, so she goes on a hunt to find clues and evidence to reveal the culprit of this crime, with her sous chef, Eric, her sister, Florence, and her grandma, Rose by her side. Will Julie be able to figure out who poisoned Maurice?
Opinion:
The Murderous Macaron had a couple of different elements that I liked. The first factor that I liked was that the main character, Julie, was a chef and made many different desserts, which piques my interest because I like to read about baking. Another factor that I liked was that I could relate two books like this one that I also enjoyed--Simone Lafray and the Chocolatiers Ball because of the patisserie aspect and setting, since both are set in England and about baking, and Nancy Drew because both are mysteries. I did, however, have some elements that I did not find as appealing. The first factor was that at the beginning of the book, it was difficult to decipher who was who because there were many characters introduced at one time. The second factor that might be jarring to a reader was the fact that the death of Maurice occurs so suddenly and unexpectedly in Julie's patisserie, which seemed to have come out of nowhere. The final factor that could affect one's reading of this story was that the plot moved slowly for a mystery--there wasn't much going on until the end of the book, which could possibly affect the reader's engagement and experience. Overall, this was an average book for me, and so I am eager to read the next one in the series to see if it is the same. I would recommend this title to ages 10 and up.
Explain your content rating:
Very brief sensual talk and cussing.
KEYWORDS
CHARACTERISTICS AND EMOTIONS:
ACTIVITIES, HOBBIES, PLACES, AND EVENTS: