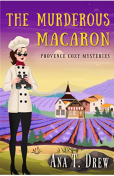 LitPick Review

After living half of her life in Paris, Julie Cavallo, the main character in The Murderous Macaron by Ana T. Drew, has decided to move back to her birthplace, a small village in Provence, France, to pursue her dream of becoming a pastry chef. Julie opens up her own gluten-free pastry shop, hoping it will become a bustling hub where people will come to enjoy her "delights". But Julie soon learns that opening a new business isn't quite as easy as she thought. She is constantly trying to find new ways to attract customers so she can keep "Julie's Gluten-Free Delights" afloat. As if her shaky financial situation wasn't bad enough, matters get even worse when a customer drops dead during her macaron making workshop. Julie isn't a suspect - the police are dismissing his death as a natural occurrence - but she is convinced that he was murdered. As she tries to find out the truth behind his death, Julie forms closer bonds with her grandmother, sister, and sous chef who eagerly join her to crack the case. But she is also forced to forge relationships with several of her suspects, who are suspicious of Julie's snooping and even willing to put Julie and her friends in harm's way in order to protect their secrets. Will Julie be able to balance her roles as a pastry chef and an amateur detective? Will she be able to solve the mystery of Maurice Suave's untimely death?
Opinion:
The Murderous Macaron by Ana T. Drew is an action-packed mystery full of suspense and unexpected plot twists that make the reader eager to keep reading. Since it is a "cozy mystery" the actual murder occurs "off-stage", eliminating the violence and horror (but not the thrill!) found in other murder mysteries. Although the book contained the perfect number of main characters, it also contained a lot of secondary characters, mainly suspects. While such a large number of suspects kept the mystery exciting, I found myself having trouble keeping track of them and their relation to the victim. Something that I really enjoyed about this book was the way positive lessons, which are relatable to readers of all ages, were skillfully woven into the storyline. One such lesson was the value of teamwork: Julie and her fellow amateur detectives often investigated on their own but always shared what they learned with everyone on the team so that together, they could see the big picture and ultimately solve the mystery. Another lesson incorporated throughout the story was the value of open mindedness: Julie and her team had to be careful not to be too hasty to rule out suspects or jump to false conclusions. Every time they decided that it must be one suspect that had committed the murder, they uncovered something else that would prove their hunch wrong and force them to look into other answers. A perfect book to get "cozy" with on a rainy day, I highly recommend The Murderous Macaron to mystery lovers, ages 12 and up.
Please support LitPick and purchase this book here.

Thank you!
Explain your content rating:
This book contained to religious, mature, or violent content.
KEYWORDS
CHARACTERISTICS AND EMOTIONS:
ACTIVITIES, HOBBIES, PLACES, AND EVENTS: