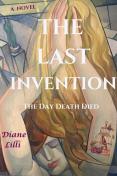 The Last Invention centers around families that break apart because of the rise of AI, plus all the havoc this creates for the human species, all while the planet Earth continues to deteriorate. This story is about sisters, their deep bond, and how grief and tragedy divide them, possibly forever, as the world is drawn in to an unthinkable existence, with the promise of the end of death.

The Last Invention is named after what scientists refer to as the "the final invention," aka man's last creation of the machine/computer.

The novel is set in the near future and centers around two close sisters, and how they face the dominance of AI. Amanda and Emily are in dramatically different realities; with one grounded on Earth and one free in a Utopian metaverse.

Across the planet, violent divisions emerge among parents, siblings, and loved ones as a solution to grief, death, and disease leading 95 percent of the human population toward a devastating outcome.

One sister rises up to lead the world in a seemingly impossible fight against the brilliance of AI and a genius tech leader by creating the only way possible for any human being to outsmart the machines.