Jeremy Austin and Miervaldis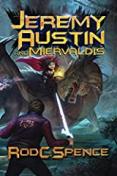 Jeremy Austin and Miervaldis
HOW MANY TEENS DOES IT TAKE TO SCREW UP MIDDLE EARTH?

Six. One has an evil, Napoleon complex. Three use magical powers to frustrate powerful dark lords. The computer nerd discovers the ability to slow time. And the former all-state quarterback finds himself riding a war horse toward an alien horde with only a sword and shield for protection—and filling his britches is not out of the question. Six teens stranded on a planet 2.4 million light years away must find the quantum portal that will send them back to Earth or risk being lost forever.

It's an Epic Fantasy battle dress with science fiction undergarments.

They've been enslaved, imprisoned, beaten, chained, molested, deceived and left for dead—and all this in Books 1 & 2. It's a survive or die world—a Michael Crichton technothriller set in a world J.R.R. Tolkien might've created—and Book 3 promises our six earthlanders will get a taste of revenge; one of their parents will be found alive; several will find love… and try getting your mack on in the midst of a freak'in zombie apocalypse! School is in session for our teens and it's strictly pass or fail—that is… pass or get killed in really horrible ways.

HIGH SCHOOL NERDS VERSUS MAGICAL DARK LORDS… WHO WINS?

Shadow Lords—Gnome Kings—Malevolos—the witch called Mistress Spellbinder—each are bent on world domination with our teenagers from Earth standing in their way. Jeremy, Marissa, Patrick, Selene and Alex desperately try to survive these villains from a Terry Brooks nightmare. Their only hope is to find an ancient sword called Miervaldis and release its magic.
Please support LitPick and purchase your book here.

Thank you!
Book Details
Genre:
Adventure
Fantasy
Fiction