Healthcare Heroes: The Medical Careers Guide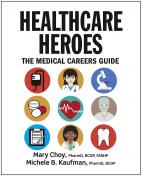 Healthcare Heroes: The Medical Careers Guide
Healthcare Heroes: The Medical Careers Guide gives you the unfiltered, unedited, no-holds-barred version of what it's really like to be a healthcare professional in the 21st century. This book features some of the best and top healthcare jobs highlighted in the U.S. News & World Report. It serves as a useful resource for readers of all ages, whether they be in middle school, high school, college or already out in the workforce.

With expert insights and strategies, this book helps readers find their best career path in the medical field. The chapters are written by healthcare professionals who provide a personal touch and share their extensive knowledge and expertise through their journey into each of their professions. Will there be a few surprises? Count on it.

Each chapter provides an overview of the profession, salary range, specialty and sub-specialty areas of employment, methods of exploring the career, educational requirements and information on the long-term employment outlook. This book also features a day in the life of the healthcare professional, strategies to succeed in the career and a list of helpful websites and references.

Did you know that healthcare is a rapidly growing field? The Bureau of Labor Statistics projects that employment in healthcare occupations will grow by at least 14% through 2028, adding at least 1.9 million new jobs. This healthcare growth will add jobs to the workforce much faster than the average for all other occupations. Don't you want to be a part of this growing trend and make a difference in the lives of patients? Start your journey towards a healthcare career today!

INCLUDED PROFESSIONS: Biomedical Engineer, Physician Assistant, Surgical Technologist, Pharmacist, Pharmacy Technician, Physician, Certified Registered Nurse Anesthetist, Veterinarian, Art Therapist, Dentist, Speech and Language Pathologist, Dietitian, Social Worker, Podiatrist, Psychologist, Physical Therapist…and many more!
Support LitPick by purchasing this book here.

Thank you!