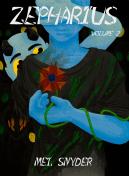 LitPick Review

WATCH THE LITPICK BOOK BRIEF VIDEO!

In Zepharius (Volume II), everything is in disarray. Zepharius is still working to protect and serve her planet, and she's now joined forces with a group in the hope that they will help her. Planets that were once allies have turned against Zepharius and her planet, while apparent enemies have started working with the Gisaaweks. Will Zepharius and her team be able to end the corruption that's happening on her planet? More importantly, can Zepharius trust this new group she's joined?
Opinion:
As with Volume I, I found Volume II to be intriguing because of the cover and the synopsis. I was still confused by the names, but the glossary helped. Zepharius is a tough female character, which I liked because this showed that females could be powerful and able to handle their business accordingly. I also appreciated the author's illustrations because, as a reader, I got to see what the characters looked like as opposed to envisioning them in my mind. I would recommend this book to anyone who likes science fiction and thriller novels.
KEYWORDS
CHARACTERISTICS AND EMOTIONS:
ACTIVITIES, HOBBIES, PLACES, AND EVENTS: