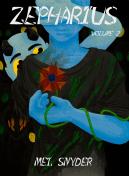 The planet Gisaawek is hiding in a lie, its citizens corrupted by a force unleashed years ago known as the "Repression". The planet's drive for power and war is increasing on an unrelenting level. Planets that were once allies have turned against them.
Zepharius, now a former soldier of Gisaawek lives as an outsider in her own world.
She is one of the dïfakàténs, people whose existence is forbidden by the government. They refer to themselves as "Restored"; people who have overcome the Repression and are seeking to restore Gisaawek. Zepharius sets out to join their movement, tasked with the prospect of leadership and providing aid to a counterattack.
With chaos enveloping the planet and the loss of their leader putting them at high alert, the Restored are wary of anyone who enters their domain. Zepharius seems trustworthy, but holds information that could destroy her potential for joining them, being the last person to see their beloved leader alive.
With trust becoming the dividing line between life and death, Zepharius struggles to adapt to the new community around her. When an unexpected infiltration puts them on unknown grounds, will she be able to gain their trust and help her people survive?