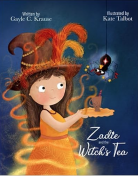 LitPick Review

The Grand Witch is looking for an assistant, but being the best at magic might not be the way to win. Sometimes, it's a special gift that will help someone stand out. Youngest witch sister, Zadie, wishes to attend the Grand Witch's Tea. When her Hairy Godspider grants this wish, Zadie joyfully attends the tea alongside her witch sisters. While Zilda and Zale compete for the Grand Witch's attention using magic, Zadie has a unique gift to offer: kindness! The Grand Witch is ready to announce her decision, and everyone is likely to be surprised, especially Zadie.
Opinion:
Gayle Krause and Kate Talbot team up to create a charming story with an important message about the magic of kindness. With rhyming text from cover to cover, coupled with whimsical illustrations, Zadie and the Witch's Tea is sure to delight readers young and old. In this Cinderella-esque tale, young Zadie uses her inner beauty to impress the Grand Witch and stand out from the crowd. Details such as the clock striking three and Zadie losing her hat, remind us of the classic story we all know and love. A lighthearted take on a Halloween story, Krause reminds readers that, sometimes, kindness is the only magic you need and selfishness does not get you far. Zadie and the Witch's Tea is a must-read in elementary classrooms this fall season and a great addition to a family library. But beware—this story is hauntingly sweet!
Explain your content rating:
Zadie and the Witch's Tea is a delight to read. It is quite possibly one of my favorite picture books to date!
KEYWORDS
CHARACTERISTICS AND EMOTIONS: