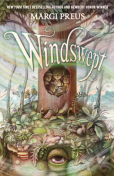 LitPick Review

In a dystopian society where children under 15 are homebound, a unique group of new friends ventures Outdoors to find their lost siblings. Well, they're not so much lost as they are windswept. Windswept tells the story of Tag and her companions' quest to achieve the impossible. What they aren't expecting, however, is to encounter mythical beings and magic along the way. Each of the youngers brings a special gift to the group, and each of these beings has a valuable lesson to teach. Through a series of terrifying, exhilarating, and humorous trials, the youngers begin to uncover details about The Other Times and what is being hidden from them. Ultimately, Tag has a decision to make, one that determines the fate of her own family and of her new friends. In an effort to conquer the impossible, will Tag show up too late or never at all?
Opinion:
You're never too old to dive deep into the world of fantasy, and Newbery Honor winner, Margi Preus, delivers a beautiful, modern classic with Windswept. The well-developed characters and attention to detail bring the many fantastical kingdoms of the book to life, while cautioning against the realities of human behavior toward Earth. Borrowing from her Norwegian roots, Preus' fractured fairy tale incorporates centuries-old stories to depict magic and whimsy, as well as the consequences of waste, greed, and selfishness. Written as a story within a story, the narrator and their audience gathered around a campfire add to the originality and overall mystery of the plot. Windswept's omnipresent themes of friendship and perseverance give the reader many opportunities to take away important life lessons. As a classroom read aloud or for independent reading, middle grade readers and young adults are sure to be "windswept" by this captivating story of loss, adventure, and redemption.
Explain your content rating:
Windswept is an appropriate read for both middle-grade children and young adults. None of the content in the book is offensive.
KEYWORDS
CHARACTERISTICS AND EMOTIONS:
ACTIVITIES, HOBBIES, PLACES, AND EVENTS: