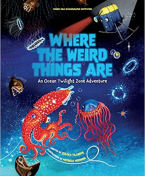 LitPick Review

Join Meso, short for Mesobot, on an adventure into the Ocean Twilight Zone to meet an assortment of weird creatures. As he explores the unknown, Meso encounters some of the weirdest creatures on Earth: a sparkly squid, a flashing jellyfish, and a long chain of nectophore. Meso doesn't seem to fit in with any of these organisms and begins to wonder who he is and where he belongs. It seems that every creature has a place but Meso. Before his journey comes to an end, Meso meets a very special creature who reminds him of the importance of diversity. Remembering all he's learned along the way, Meso brings vast knowledge back to his team and prepares for his next weird mission.
Opinion:
The Woods Hole Oceanographic Institution (WHOI) takes us on a journey into the unfamiliar Ocean Twilight Zone. Bold and bright illustrations remind readers of the beauty that lives in the unknown and depicts a clear message for even the youngest readers, that uniqueness is special. The nonfiction text features, like bold words and photographs at the end of the book, add to the informative nature of the text and provide facts about one of Earth's great mysteries. Not only do Patricia Hooning's illustrations paint a beautiful picture of the ocean, but the text itself enhances the story with creative dialogue, enlarged lettering, and whimsical font. Award Winning Scientist, Zoleka Filander, shares her knowledge of the deep-sea in a captivating way. Perfect for a classroom read aloud and a great addition to a unit on marine life, Where The Weird Things Are gives valuable information about little known creatures and their importance in the ecosystem, while highlighting a timeless message about the importance of diversity, and of course, the joy of finding yourself. Head over to keepitweird.us to find yourself and determine which weird creature you are!
Explain your content rating:
From the WHOI comes a beautiful and informative picture book, suitable for children and adults alike!
KEYWORDS
CHARACTERISTICS AND EMOTIONS:
ACTIVITIES, HOBBIES, PLACES, AND EVENTS: