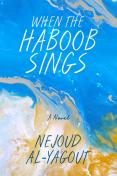 Genre -
Literary Collection
LitPick Review

Dunya Khair, a published writer in an unnamed Muslim country, is wasting away in prison. In her cell with only a mouse and insects for company, Dunya reflects on the events of her life that led to her imprisonment: her outspokenness, her calling to write the truth, and her declaration of apostasy. In her country, not being Muslim is a heinous crime; the only thing worse is writing about not being Muslim. But prison is only the beginning of Dunya's journey. Upon her release, she's inundated with emails, some supporting her, others threatening to kill and send her straight to hell. Dunya can deal with empty threats, but what she can't handle is the way her family is splintering around her; it's only a matter of time before she cracks under the pressure. Hers is a story of mental illness, the steps to recovery, and love.
Opinion:
This book was a ride, but I enjoyed it because it was an honest one. The story was a little scattered and made confusing leaps at times, but it made me feel like I was truly inside Dunya's mind, going on this journey with her. While many parts of Dunya's story (her time in prison, her writing ability) aren't as relatable, the underlying themes of stress, mental illness, fear of asking for help, and coming to terms with yourself are things many of us have experienced at different points in our lives. Dunya's story is unique because it isn't a feel-good story that pats you on the head and assures you everything will be okay. It is frighteningly honest and addresses the fact that real life isn't easy. Battling mental illness is HARD; you don't always have the support you need, and even the littlest things can set you back. But her story also reiterates that it IS possible. Her daily choice to prioritize her mental health is inspiring.
I recommend this book to anyone looking for a book that will make them think and anyone who gets overwhelmed by life at times.
Explain your content rating:
Discussions of depression, suicide, sexual assault, and other adult topics
KEYWORDS
CHARACTERISTICS AND EMOTIONS:
ACTIVITIES, HOBBIES, PLACES, AND EVENTS: