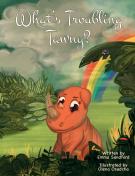 LitPick Review

Tawny, a shy rhinoceros, has a blast splashing in the Sumatran rainforest mud puddles every day, but lately she realizes it would be even more fun if she had someone to splash with. That's when the outgoing Tallulah shows up. Tallulah is a bold and beautiful rhinoceros hornbill, but unlike Tawny, Tallulah is not shy and she does not like getting muddy. Even though Tawny likes Tallulah, she needs a friend who loves playing in mud puddles just as she does. Will Tawny's shyness prevent her from making that friend?
Opinion:
In Book 2 of The Sumatran Trilogy, What's Troubling Tawny?, Emma Sandford delivers sympathetic characters and a storyline that is simple yet beautifully meaningful. Tawny's journey of overcoming self-doubt and shyness and then embracing self-acceptance is a message that will resonate with young readers. Educational details of biology are seamlessly woven into the storyline, which is the most organic way to learn—for children as well as adults. In addition, just as in Book 1, Olena Osadcha's illustrations are colorful, lively, full of humor and heart, and sure to capture children's attention and imagination. She even adds a brief appearance of Book 1's Poppy, the Sumatran porcupine, and Rory, the Sumatran tiger cub, to What's Troubling Tawny?, a detail sure to delight readers of both books. The trilogy's setting is the Sumatran Rain Forest in the Leuser Ecosystem, Indonesia, a safe haven for critically endangered creatures such as the book's characters, the Sumatran rhinoceros and the Sumatran rhinoceros hornbill. As a bonus, a portion of the book's price is donated to Rainforest Trust UK with every sale.
Explain your content rating:
The book is well written, using higher vocabulary and educational tidbits woven into an age-appropriate narrative that is perfectly complimented with beautiful and engaging illustrations.
KEYWORDS
CHARACTERISTICS AND EMOTIONS:
ACTIVITIES, HOBBIES, PLACES, AND EVENTS: