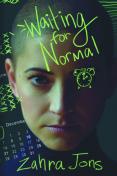 Age Range -
Mature Young Adult
LitPick Review

Normal [n]: the usual, average, or typical state or condition. For most high school teens being just normal means being boring. Being normal is not the plan nor would they ever want to be described as such. For Cat, being normal is something she only dreams about, and her dreams aren't happy ones at the moment. Cat is finally back to school for her senior year, but she no longer has a boyfriend, straight As, or a position on the crew team. What Cat does have…is lymphoma. For Cat this means weeks in the hospital feeling horrible with her Dad trying to convince her via telephone to continue rowing for the crew team and her Mom following the advice of every support group she can find. While attempting to navigate this new normal, Cat also has her ex-boyfriend, Jett, whom she loved deeply, by her side every step of the way. Cat certainly doesn't want Jett to be anywhere else, but does this mean he still loves her — cancer and all? Can Cat figure out this new rhythm of her life while still wishing for her old one, or will Cat always be left waiting for normal to reappear?
Opinion:
Waiting for Normal is an excellent, true-to-life read! This is not a novel about the battle of cancer or the treatments of cancer or the after cancer — this is a novel about teen life which happens to include cancer. It's really a gut punch of how life doesn't stop when a diagnosis of cancer is given to a teen girl, it simply readjusts the center. Here we have Cat still trying to get through school, figuring out her love life, and dealing with her parent's marriage disputes. These are things ANY high school girl may be dealing with, but Cat has the added worry of what may or may not happen with her cancer treatments. You also get a look into how different members of the family are dealing with or avoiding the realities of cancer in a loved one.
I think this novel would be a great read for ages 14 and up, but girls would probably be more interested. There is mention of sex and some family verbal abuse.
Explain your content rating:
teen sex and family verbal abuse (a little physical abuse - grabbing an arm)
KEYWORDS