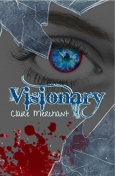 LitPick Review

Visionary by Claire Merchant is a story about a high school teacher, Cassia Reid, who realizes after an eye surgery that she can see more than expected. Cassia opted to have eye surgery to correct her sight, but after the surgery, she finds out that her sight is a lot better, but weird. She finds out she can see more than expected which includes how people will die. She is now surrounded by this gruesome sight each day and the only way to hinder her from seeing this is to put on her glasses. Furthermore, she also comes in contact with Sal and his friends who are like her but different. At first, she thinks they are an unusual bunch of people, but she soon begins to believe them when her best friend and boyfriend think she is joking about seeing things. Since nothing can be done to remove this vision, she begins to investigate how to control it. Do you think this will work out? Or is she bound to view the gruesome images of people dying all her life?
Opinion:
Claire Merchant's book is a paranormal story and is a great read as it focuses on the life of Cassia and how she has to deal with her newly found vision. Throughout the book, I came across various characters that fit the plot of the story, but two stood out to me. One of these characters I really liked is Sal. The fact that Sal is a grim reaper requires a strong heart as he has to escort the dead to the afterlife. Despite this being a reaper, he can be seen around his friends laughing and cheering. Cassia also is a great character and protagonist. Even though her vision is unnatural, she strives to make sure she attempts to save her friends from their proposed ways of dying. These characters undoubtedly have lessons to teach to readers. The plot, I would say, was not fast-paced but took me through at a comfortable and good pace. The setting was also well-developed as it was set in the South Coast, which is a good one for the tale. One of the things I found lovable was that the story is clean, lacking many profanities and errors throughout the whole book.
Explain your content rating:
The book would be rated as not offensive considering that it lacked mature scenes and can be recommended to teens. It can also be recommended to book lovers who are into the paranormal and fiction genre.
KEYWORDS
CHARACTERISTICS AND EMOTIONS:
ACTIVITIES, HOBBIES, PLACES, AND EVENTS: