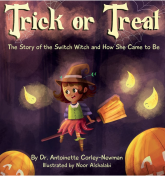 LitPick Review

Have you heard of the Switch Witch? Neither had I before reading this book. The switch witch is a holiday tradition that seems like a lot of fun. Children who do not want all of the sweet treats they collect on Halloween can call on the Switch Witch and trade their yummy sweets for some healthier treats or other fun items.
Trick or Treat tells the story of how this witch came to be. The sweet witch is named Abigail. She lives with her immortal family in Transylvania and only interacts with the mortal world one day a year. Of course, that special day is Halloween!
Abigail loves the sweet treats given away on Halloween. They are unlike anything found in Transylvania! Halloween is the only time she eats them, and there never seems to be enough. While in Transylvania, Abigail uses a spell to observe the mortals. She sees how they interact with their family and friends, and she notices that they love to share their treats!
This gives Abigail an idea. She wants to be able to obtain enough treats for not only herself but also to share with her family and friends back in Transylvania.
Her creative idea gives birth to the "switch witch."
Opinion:
Fans of Halloween-themed stories will love this book! The illustrations are fabulous and definitely capture the imagination of the reader. The author developed Abigail as a friendly and kind but strong-willed young lady. Abigail develops her plan not only to benefit herself in the short term but also to gain treats for her friends and family to enjoy all year long. What a positive message!
The author, in the back of the book, also mentions a charity that will accept these "mortal treats" and exchange them for other goodies. This is a nice addition. A reader who has never heard the switch witch may be curious to find out more. I instantly went to Google to find out more about the history of this tradition. It would be nice to have a page at the end of the story that explains the history in a little more detail.
Explain your content rating:
This is a fun-filled book appropriate for any age reader.
KEYWORDS
CHARACTERISTICS AND EMOTIONS: