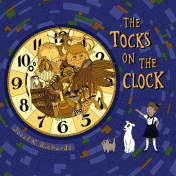 LitPick Review

Welcome to a tour of The Land of the Tocks - a world based within a clock! Our tour conductors in this adventurous introduction to the numbers on a clock are a little girl and her faithful dog and cat. In The Land of the Tocks, a "Tock" lives at each number, from the Phloon "who lives at noon on top of a blue dune," all the way through to the "Zight" who lives at midnight, who "wishes you a good night."
Opinion:
The children's picture book, The Tocks on the Clock, written and illustrated by Jozeph K. Richards, is in the tradition of books by Dr. Seuss, complete with rhyming text and colorful, fantastical creatures. As an adult who loves to read aloud to children, I found the book's rhyme sometimes less-than-perfect, but Richards' illustrations and overall creativity make up for it.
The Tocks on the Clock is a clever way to introduce young children to the function of clocks and to the concept of the passage of time. Children will enjoy the book's highly detailed illustrations which are full of humor and discovery, such as the repetition of the nursery rhyme, Hickory, Dickory, Dock repeatedly written on the room walls of "The Yate" who "lives at eight." Adults reading aloud will get a kick out of elements of allusion, such as the "Good Day" blimp floating above people enjoying a concert at noon, then later, the "Good Night" blimp hovering over the same spot at midnight. In addition, the opening illustration of the book's little girl conductor looking down upon a giant clock in a wood surrounded by not-so-friendly-looking trees reminds me of Alice in Wonderland.
As a mild warning to adults, also like Alice in Wonderland, several of the book's illustrations have a "darkish" tinge. An example is "The Dren" who "lives at ten inside of a den." He wears a bone necklace complete with a skull as the pendant and holds what appears to be a pelvic bone. Another caution of sorts are the adult drinks in the hands of the concertgoers and "Professor Bubbles" smoking his bubble pipe in the book's noon scene. I don't believe young children will notice these elements enough to correctly identify them, so for me, they are not a strong enough negative to avoid purchasing the book, which is a highly entertaining precursor to learning to tell time.
Explain your content rating:
I am a stickler for rhyme (most of the time - lol), so that is part of why I did not give this picture book 5 stars. Another reason for the 4-star rating is that the book has no clear plot or solid lesson, which is not strictly required for very young children - just a matter of personal preference.
KEYWORDS
CHARACTERISTICS AND EMOTIONS:
ACTIVITIES, HOBBIES, PLACES, AND EVENTS: