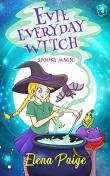 LitPick Review

Have you ever had your enemy take your bestie away from you? Well, that's what happens to Evie. Her enemy enters her school and is challenging her for her spot in the school and the town. Evie is a witch, and she has to win the magic competition to stay at her human school. She comes up with an evil, nasty, creepy, and gross magic trick. (To her advantage, she can use real magic and not a lame card trick.) Little does she know, the kids do not want to be scared; they want a nice performance (scare-free). After screams, cries, and giggles, the competition ends. Does she lose her friend, town, and school? Read the book to find out.
Opinion:
Spooky Magic is an amazingly written book full of drama, friendship, and some hardship. Evie is very easy to relate to. She feels that she needs to be perfect and do her best to not let people down. I love the friendship between Evie and her best friends and how they go through many different hard times and good times together. I love how her other friends each have something different they can offer to help Evie along the way. I recommend this book to ages nine and up, only because of the level. There is nothing inappropriate or bad in this book.
Explain your content rating:
There is nothing inappropriate or violent in the book.
KEYWORDS
CHARACTERISTICS AND EMOTIONS:
ACTIVITIES, HOBBIES, PLACES, AND EVENTS: