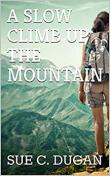 LitPick Review

Jotty Alfarnso is a troubled teen in her senior year during 1987. She hates school and principals, but most of all, her stepfather. Despite all of that, her one true passion has always been creating art in her favorite place: Rattlesnake Mountain. With the new school year, a new principal arrives, and at first things don't go Jotty's way. As if things could not be worse at school, her home life starts to go awry the more her stepfather drinks. At the same time, her friend falls into great need when she is stricken with a health problem. It seems impossible to escape the little dusty town of Nevada and all its problems; that is, until she is offered an opportunity to do what she loves most: express her love through art. Will she endure school to do what she loves most, or will she quit what she hates and drop out of school to help support her mother at home?
Opinion:
This book definitely kept me interested. This story gives vivid insight on the lives of those who seem stuck in their financial situation, so much so that it makes me appreciate what I have more. I would recommend this for high school students and teenagers but also for adults since it gives an all-around great lesson in endurance and hard work. I would not recommend this story for young children, as it has some adult language and references. For those who love art or any other creative work, this will inspire greatly. The plot and story are slow and normal at first, but the action and tension increase as it continues. I was compelled to read more and more. The book has real feelings and is extremely true to life. I envisioned it as clear as a movie as I read.
Explain your content rating:
Curse words and a few adult references. A few scary parts for young children.
KEYWORDS
CHARACTERISTICS AND EMOTIONS:
ACTIVITIES, HOBBIES, PLACES, AND EVENTS: