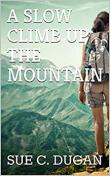 LitPick Review

WATCH THE LITPICK ANIMATED REVIEW ON YOUTBE!

Ever since fifth grade, Jotty, the main character in Sue Dugan's A Slow Climb Up the Mountain, has hated school. She skips almost all of her classes and doesn't bother with homework. She plans to follow in her mother's footsteps and drop out of high school as soon as she turns 18. But as Jotty's senior year approaches, a new principal arrives. As soon as Jotty and Dr. Benninger meet, they butt heads, both trying to make the other understand that they don't intend to be told what to do. Jotty decides that Dr. Benninger is determined to make the remaining months leading to her 18th birthday the worst months of her life. But as Jotty becomes more desperate to drop out, both to escape Dr. Benninger and to help with her family's financial issues, Jotty's Ma becomes more bent on keeping Jotty in school long enough to graduate. Her Ma regrets dropping out and abandoning her dreams to be a nurse; she wants a better future for Jotty. Jotty's life is further complicated by her stepfather, who uses up her Ma's hard-earned money to get drunk and is constantly having run-ins with the law. Jotty tries to escape her problems through her artwork, but even that doesn't always work out. Will Jotty ever be able to get along with Dr. Benninger and her stepfather? Will she be able to reconcile her stubbornness with her desire to please her Ma? Most importantly, will she find the future meant for her?
Opinion:
A Slow Climb Up the Mountain by Sue Dugan is a fast-paced, enjoyable read. The many different storylines weave together to form a well-developed and complex novel. There's a good amount of main characters, making the story easy for the reader to follow. I enjoyed how Dugan uses detail to make the story more realistic, taking the reader on a trip to the fictional town of Sagebrush, Nevada. The description of the far-from-glamorous lifestyle of the families of Sagebrush makes the story more relatable for readers who might share some of Jotty's simple wishes. At the beginning of the book, the reader might find themselves disliking Jotty for her stubborn attitude and "bad" habits. But as the story progresses and Jotty tries to better herself, it is much easier to root for her. Because of its mature content, I would recommend this book to readers ages 13 and older.
Explain your content rating:
This book contains some mild swearing and topics that may not be appropriate for younger kids (violence, alcohol abuse, teen pregnancy).
KEYWORDS
CHARACTERISTICS AND EMOTIONS: