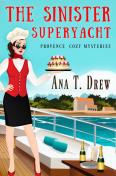 LitPick Review

Julie is excited to work as a temporary dessert provider on a one week superyacht. Sure, she's never really baked while at sea, and she is bringing her wild grandmother, Rose, along, but it's sure to be a fun trip. The week starts out harmless enough even if there's some drama going on between the guests onboard. But when Michelle, the owner of the yacht's rude mother-in-law is found to be dead, things start to get crazy. Everyone is a suspect, from Michelle's boyfriend, to even her very own daughter Valerie. But why would someone want Michelle dead? And will Julie and her crew be able to crack this case before the murderer comes for someone else?
Opinion:
Since this book takes place aboard a yacht on sea, the setting is a little different than normal. I think it was refreshing to read a book with a different setting, and I think the author did a good job of correctly portraying a vacation on a yacht. I also enjoyed that it was a nice mystery without being too creepy, though it was a bit mature for younger audiences. Though the book got a little confusing at beginning since some of the characters didn't have a completely clear backstory, I found that I was able to read this book without having to have read the past two books in this series, which I think is very important. One thing I did not like about this book was that the content seemed to be geared towards young adults and adults, but the writing style itself was similar to the writing style of a book written for younger children. Overall, I would recommend this book to others due to its nice narration, steady pacing, and building suspense.
Explain your content rating:
There is content and language in this book not suited for children under the age of 13.
KEYWORDS
ACTIVITIES, HOBBIES, PLACES, AND EVENTS: