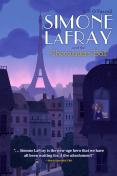 LitPick Review

WATCH THE LITPICK ANIMATED REVIEW VIDEO ON YOUTUBE!

Simone LaFray and the Chocolatiers' Ball is a book about a girl who is a spy. Her father is in charge of a patisserie. She has a routine for every day and gets upset when she is noticed and her routine is broken. Her little sister, Mia, is pretty and sweet. On the way home from the park, she notices a man reading a newspaper. Simone gets home to the patisserie and opens the mail. She sees the strange man watching the shop. Some cooling racks fall down, and she picks them up. When she stands up again, the man is gone. She is helping her father when she notices a silver envelope in the trash. She asks her father what it is, and he tells her that it is an invitation to the Chocolatiers' Ball. Her father says they won't go and continues his work. But Simone keeps the letter. Why does she keep it? Why is her father so dismissive, and most importantly, who is that strange man? Read this book to find out!
Opinion:
I really loved this book, and I hope there is another one coming out because I can't wait to read it. The book kept me in suspense between its pages! I read it in one sitting because I couldn't put it down! I could relate to the characters, as they were lifelike. This book was a great mystery. It was a little intense in some parts, but other than that, it was awesome! That's why I gave it 5 stars. I would recommend this book to kids ages 10-12.
KEYWORDS
CHARACTERISTICS AND EMOTIONS: