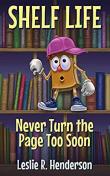 LitPick Review

Shelf Life: Never Turn the Page is a book about books! In the beginning, the reader will see that the author in the story, Paige Turner, is sick of not having any progress selling her book. She is a self-published author and decides to put Little Book, her children's picture book, on the donation cart at the bookstore. Little Book feels abandoned and scared, and thinks what should he do? As soon as it's dark outside and no one is there, he sees that other books are waking up. He asks many other books to help him, and he is determined to escape the bookstore to get back to his author. He and his new friends try to help him get shelf space, but no luck. Little Book must show everyone that he is a good, little book no matter what. He realizes that every book at the bookstore judges him based on what he looks like on the outside, not the inside, and he does not like that.
Opinion:
Shelf Life: Never Turn the Page is an adorable and unique story! The author does a great job of making the books come to life realistically, but also makes it super fun to read. The book is easy-going and very enjoyable to read about the adventures of Little Book. Shelf Life reminds me of Toy Story, but instead of toys, it's with books which is awesome. A lesson that I learned about in this story is to not judge a book by it's cover and that it's okay to be different, which are beneficial lessons. The plot was slow and it did not interest me at times, but it still is a well-written story. The plot of the story is a big deal for me because it has to be fast-moving and keep me engaged, and sometimes Shelf Life did not do that. Other than that, I thoroughly admire this book and definitely will recommend it to some of my family and friends.
Explain your content rating:
There is nothing offensive in this book.
KEYWORDS
CHARACTERISTICS AND EMOTIONS: