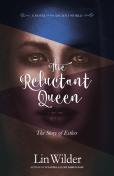 Genre -
Historical Fiction
LitPick Review

Age at time of review - 25
Reviewer's Location -
Carrizo springs ,
TX,
United States
View Mikpos's profile
"The Reluctant Queen" is packed with historical detailing and exquisite character development. The author takes the reader on a journey from Esther's early childhood into her Queendom, outlining how events in this seemly average young Jewish girl's life mold her into becoming the savior of the Jews of Persia.
Opinion:
Initially looking at this book I assumed I would open up a dramatic retelling of the infamous Queen Esther as most tales of the Jewish heroin are. Being a religious woman myself, I have heard Esther's story many times. Ms. Wilder is a new author for me, and I was eager to review her take on this classic story.
As I stated, my initial assumptions about this novel were those of dramatics and admittedly, of exaggeration. I was quickly and pleasantly surprised to find that was not the case. Reading the preface one can sense the passion and earnestness with which Ms. Wilder writes. The author gives the reader a glimpse into the chaos that leads up to her main story and is able to summarize it expertly. It is evident that Ms. Wilder is a well-read and incredibly intellectual woman. I fell into her writing style easily and became excited.
Personally, I enjoyed the natural flow Mrs. Wilder writes with so much that I'm reluctant to assert any criticism. However, I must admit I found the book to almost drag just past midway. Admittedly, I binge read this novel and may have burnt myself out a tad. As I said, the author does such an exquisite job of detailing her story and to no fault of her own causes some points of her story to become dense. It is my opinion this book could have been cut back a few pages. I concede, the author set out to write a novel about Esther's life, not just the mere fable most are used to. Lin Wilder accomplished that that. She might even be one of my new favorite authors.
Explain your content rating:
This novel outlines certain scenarios that could be viewed as "advanced situations" for younger readers.
KEYWORDS
CHARACTERISTICS AND EMOTIONS:
ACTIVITIES, HOBBIES, PLACES, AND EVENTS: