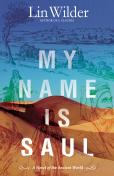 Genre -
Historical Fiction
LitPick Review

My Name Is Saul recounts the last days of St. Paul the Apostle. Known as Saul of Tarsus during his earlier years, St. Paul openly discusses with the help of Aurelius, jailer and follower, the specifics of his life as he sits in Mamertine Prison in Rome. My Name Is Saul is a combination of artistic representation and historical data. Author Lin Wilder takes the reader back in time, detailing St. Paul the Apostle's tale of loss, love, and transformation.
Wilder's vivid imagination, coupled with her ability to produce well-written and factual content, gives readers who aren't familiar with these scriptures the opportunity to gain insight into what transpires throughout Apostle Paul's life leading up to his last days on earth.
Opinion:
My Name Is Saul is an insightful and well-written read. Wilder does an excellent job researching information and presenting it in a way that's engaging, sharp, and thought-provoking. The novel flows seamlessly. The scenes in which St. Paul is in prison are extermely descriptive, providing the reader with a keen opportunity to envision what is taking place.
The list of resources at the end of this novel is an excellent addition, showcasing the author's willingness to provide readers with a book that's factually accurate but also pleasing, and it provides a starting point for those who choose to fact-check the information for themselves. Readers who are firm in their faith will find this book worthy of reading. However, it might be a bit difficult for those who are not familiar with the Bible, specifically the New Testament.
KEYWORDS
CHARACTERISTICS AND EMOTIONS:
ACTIVITIES, HOBBIES, PLACES, AND EVENTS: