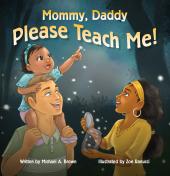 LitPick Review

Mommy, Daddy Please Teach Me! begins with the birth of a new baby girl. Throughout this picture book, the little girl grows, but she wants to learn things that she can use in the future when she is older. The new things she learns are written in rhyme, and the story builds by showing how she can use these resources in her life. At the end of the book, the little girl has learned many things, and she is growing up to be a smart girl who will continue to learn.
Opinion:
Mommy, Daddy Please Teach Me! is a great picture book that would be applicable to young readers because they would learn about needed life skills. For example, they would be exposed to important skills such as cooking, cleaning, hygiene, financial matters, and career pursuits, which would then open up the conversation about such matters with their caregivers. The pictures fit the story perfectly because they aid the reader in imagining the story more clearly. This book was entertaining and I'm 13, so I think the author did a fantastic job of making the book interesting for young ages. Overall, this was one of the best picture books I read, and I would highly recommend it and rate it 5 out of 5 stars.
Explain your content rating:
There is nothing offensive or inappropriate in this picture book.
KEYWORDS
CHARACTERISTICS AND EMOTIONS:
ACTIVITIES, HOBBIES, PLACES, AND EVENTS: