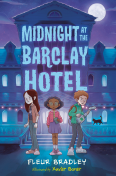 LitPick Review

Midnight at Barclay Hotel is a children's detective fiction sprinkled with paranormal elements. The book features the story of JJ, an eleven-year-old ghost-enthusiast who unexpectedly finds himself amidst a murder mystery. He is perfectly fine with being stuck in a haunted hotel but the fact that his mom is on the list of suspects along with several others makes things tricky. Soon it turns out that almost everyone in the hotel has secrets to keep, making the case harder than ever. Despite the challenges and the determination to hunt down a ghost, JJ refuses to step back until he discovers the truth and clears his mom's name. Penny, a fellow straggler and the granddaughter of an ace detective, and Emma, a girl living in the hotel who has her uncle's name to clear, join hands with him to solve the mystery.
Opinion:
The first few chapters may or may not intrigue the readers but the story gets interesting as it proceeds. Besides, throughout the book, one can find humorous and witty sentences, which adds to the overall beauty of it. Although it deals with a murder case, the author did a good job in keeping it suitable for children. In addition, the jolly ending can give rise to hope and love in the hearts of the readers.
Through the characters of JJ, Penny, and Emma, the story allows the readers to know that strong friendship can develop in spite of glaring differences between people, and often respect toward views and beliefs that is different from one's own is all it takes. In the book, one can also find a realistic yet supportive parent in JJ's mom. Although she was furious after learning what JJ was hiding from her, she allowed him space to provide an explanation. When she observed JJ's frustration, she readily offered the much needed support. Thus, the story can encourage both parents and children to try to develop a relationship that allows smooth and fruitful communication. Besides, the book can also encourage the readers to shrug off doubts and work on their dream. One of the best things about the book is the representation of dyslexia through the character of JJ, even though the book is not about dyslexia. Such representation is essential in order to raise both awareness and self-esteem in the young readers.
It is no doubt a good pick for 8-10 year old children.
KEYWORDS
CHARACTERISTICS AND EMOTIONS:
ACTIVITIES, HOBBIES, PLACES, AND EVENTS: