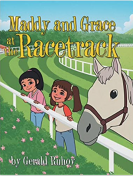 LitPick Review

One day, Maddy and Grace's parents decide to take them to a racetrack to watch horses race. Maddy and Grace are very excited to see racehorses and jockeys up close for the first time. Once they get to the racetrack, they walk over to the stables to see if there are any racehorses they can visit. Inside the stable, Maddy and Grace are having fun feeding and playing with the racehorses when they hear a horse behind them outside the stable. There they find a workhorse who tells them that he has always wanted to be a racehorse, but his owner has chosen for him to be a workhorse instead. He offers Maddy and Grace a ride, and they excitedly accept. As they get closer to the racetrack, the workhorse starts to run faster and runs onto the track and joins the race! Maddy and Grace quickly realize that they are part of the race and start cheering the workhorse on! Is this finally the workhorse's chance to achieve his dream of winning a race?
Opinion:
I really enjoyed reading this story. I liked that the author wrote a talking horse into the story as I think that is very creative and overall made the story more exciting and magical. The setting of the story was also very unique, and the author did a great job of describing the different aspects of a racetrack such as the stables and different types of horses that live there. This was also shown through the colorful drawings that illustrated the different scenes at the racetrack. The horse's victory at the end of the story, despite being initially forced to be a workhorse by his owner, shows the importance of believing in yourself and never giving up on your dreams. Overall, I think this is a great story for young children that is full of inspiration!
Explain your content rating:
This book is written for kids.
KEYWORDS
CHARACTERISTICS AND EMOTIONS: