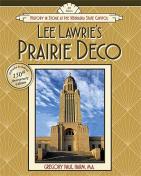 Genre -
Historical Nonfiction
LitPick Review

WATCH THE LITPICK ANIMATED BOOK REVIEW VIDEO!

"'For many Americans, Nebraska is written off as being 'flyover country.' But in the nation's midsection, there is a little-known historical treasure."
In the fourth edition of Lee Lawrie's Prairie Deco: History in Stone at the Nebraska State Capitol, Gregory Paul Harm, MA has constructed a beautiful homage to Nebraska's greatest collection of Art Deco and state pride as well as the wonderful mind behind its creation.
The first section of this book tells the story of Hugo Belling (Lee Lawrie) from birth to creator of many sculpted elements within more than 100 buildings. Some of those elements include statues and architectural details such as fireplace mantels and the decorative features on the roofline of the buildings.
While Lawrie's actual birth is undocumented, Gregory Paul Harm's extensive research and dedication to Lawrie has uncovered a lifetime of previously unknown works of art. Through original letters of correspondence, work orders, newspaper articles, photographs, Lawrie's unpublished autobiography, and on-the-ground research, Gregory Paul Harm gives readers the actual timeline of Lee Lawrie and the how and when he created pivotal pieces of art — namely the Nebraska State Capitol.
The second section of Harm's book focuses on the hows and whos of Lee Lawrie's greatest works — Nebraska Capitol Building and Rockefeller Center to name the top two. Harm explains the logistics of how Lawrie was able to work on several large, and extensive projects, simultaneously, including giving background to his fellow sculptors, architects, and artists. This section really brings to life the time period in which Lawrie was working and how utterly astounding his works are in terms of available methods of communication, travel, and art tools.
The third and largest section of Harm's book explains the background to Art Deco inside the Nebraska State Capitol. He not only details the historical relevance of the pieces, but the cultural, religious, governmental, and symbolic aspects of them. Harm takes the reader almost room by room inside the vast building, providing details of the pieces, their creators, and wonderful photographs to give the reader a true feeling for this building that is a montage to "Prairie Deco" as a form of Art Deco.
Opinion:
As a native Nebraskan who has visited the State Capitol on more than one occasion, this book is not only fascinating but also eye-opening. I am one of many who have never heard of Lee Lawrie, and I was utterly astounded to learn that one of the great minds behind my State Capitol also has works in many well-known locations. I agree with Gregory Paul Harm that many view Nebraska as one of those states you can ignore, yet how can such a contribution to the great arts be ignored?
I really enjoyed the formatting of this book. Harm set up the main idea behind his writing, the life and work of Lee Lawrie, and then went back to the beginning to explain how he came to be the prestigious artist he was. Punctuated with full-color photographs of Lawrie's work, handwritten correspondence of Lawrie and his partners, and documentation centering on Lawrie, the text flows easily, keeping you intrigued as you continue. Lastly, the inclusion of a special interview rounds everything out beautifully.
I would recommend this book to any Nebraskan, obviously, as well as anyone interested in art history or mid-western history.
Note from author:
***While Lawrie's career lasted more than 70 years, no one has ever been able to provide an accurate count of the number of items he sculpted during his lifetime.
Further complicating this mystery is the fact that for each building for which he created sculpture, he could have created anywhere from a handful of examples to scores of pieces. We may never know the totality of his work: all we can say with certainty is that it was abundant, ubiquitous, and highly imaginative.***
KEYWORDS
ACTIVITIES, HOBBIES, PLACES, AND EVENTS: