Lee Lawrie's Prairie Deco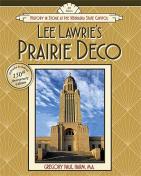 Lee Lawrie's Prairie Deco
Here is the story behind one of America's most prolific-yet least known artists of the 20th Century. Lee Lawrie created architectural sculptures on buildings for more than 70 years, in 23 states and at least 3 foreign countries. Yet due to his humility, he never sought celebrity, and consequently, most art historians have never heard of him.

This is the story of his largest job, the multitude of sculptures at the Nebraska State Capitol, his role as a collaborator with the architect, and how this project all came together and occupied more than 14 years of his life. The book also explains that his art helps to convey the purpose of the building, teaching the citizens about the institutions of government the European Settlers brought with them into the new land, and paying homage to the Native American Plains Indians they had displaced.

It also provides lessons on the development of law, Western Civilization and Democracy. It is written in a conversational style that is easily accessible to anyone from middle school up through colleges.
From the Publisher
While Lawrie's career lasted more than 70 years, no one has ever been able to provide an accurate count of the number of items he sculpted during his lifetime.
Further complicating this mystery is the fact that for each building for which he created sculpture, he could have created anywhere from a handful of examples to scores of pieces. We may never know the totality of his work: all we can say with certainty is that it was abundant, ubiquitous, and highly imaginative.
-Gregory Paul Harm, author of Lee Lawrie's Prairie Deco