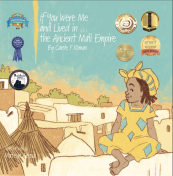 Genre -
Historical Nonfiction
LitPick Review

Age at time of review - 16
Reviewer's Location -
Spring Hill,
Tennessee,
United States
View moseso's profile
If You Were Me and Lived in…the Ancient Mali Empire is an informative and interactive book detailing the different lives and occurrences of the ancient Mali empire. Imagine time-traveling back to the Mali empire during the 1300s—without ever leaving the comfort of your chair! This historical book puts the reader in the middle of all the action while delivering intriguing facts and information about the time period. Jumping back and forth from various events, this book paints not only a vivid picture in the reader's mind of what the ancient Mali looked like but also includes fun illustrations. Touching on every aspect of the ancient Mali empire, such as food, religion, politics, family, clothing, and more, this is an excellent resource for younger children learning about world history or for anyone who wishes to know more about this topic.
Opinion:
This book is truly one-of-a-kind! I don't believe I've ever read a book that takes the reader along on its journey through time. The ancient Mali empire is a time in history that is not often taught or shared in school, so it is extremely interesting for me to learn something new. This book could be an excellent read-a-loud for children, or it could be used as a resource for anyone of any age to learn more about the Mali empire. The illustrations are exciting, allowing the reader to see exactly what the author describes. The writing feels slightly choppy at times, but since this is more of an informative book and not so much of a story, this doesn't bother me. If You Were Me and Lived in…the Ancient Mali Empire is a great book that intrigues and captures the mind of the reader.
KEYWORDS
CHARACTERISTICS AND EMOTIONS:
ACTIVITIES, HOBBIES, PLACES, AND EVENTS: